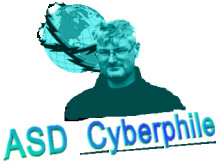 INDEX
Dream Time
The Magazine of Association for the Study of Dreams


Fall-Winter2003, Volume #20, Issue #3-4
Survey of ASD member websites with useful information - N-Z

Summer 2003, Volume #20, Issue #2
Survey of ASD member websites with useful information - J-M.

Spring 2003, Volume #20, Issue #1
Survey of ASD member websites with useful information - A-H.

Winter 2002, Volume #19 Issue #4
A look at the doctoral thesis of John Herbert, Ph.D. comparing online to offline dreamwork and ways of applying this method online.

Summer-Fall 2002, Volume #19 Issue #2-3 (no Cyberphile)

Spring 2002, Volume #19 Issue #1
Information about the International Dreamwork Pages and "Dream Sharing with the Enemy" a report on a dream group with a Serbian woman during the Kosovo Crisis.
Fall 2000, Volume #17 Issue #4
Scott Hughes and Jean Campbell discuss computer connections at the Washington D.C. Conference and remote conferencing with Jayne Gackenbach and Robert Bosnak.
Summer 2000, Volume #17 Issue #3
Special Issue on Dreaming and Cyberspace! This issue published both offline and online includes the pioneers in Dreams and Cyberspace as well as a host of new research and online dreamwork. Jeremy Taylor, Jayne Gackenbach, John Herbert, Robert Bosnak, Walter Logeman, Epic Dewfall, Linda Magallon, Richard Wilkerson and more!
Spring 2000, Volume #17 Issue #2
How dream inspired art is emerging in the Digital Age. A review of online art galleries as well as new techniques for computer generated graphics and using the Internet to search for collage images for personal use.
Winter 2000 Volume #17 Issue #1
An exploration of how the Internet has impacted the study of Dream Psi and paranormal dreaming research and investigations. How to connect your dream website to search engines, and e-benefits from ASD.
Fall 1999 Vol #16 Issue #4
Summary of the 1999 ASD Conference and the forums that discussed issues relevant to dreaming on the Internet. New dream research tools online. Dreams, technology and simulated reality. Tips for website owners.
Summer 1999, Volune #16 Issue #3
Robert Bosnak's cyberdreamwork. Dream Sharing with Serbia. Starting your own dreamgroup online. The DreamArts newsletter. Getting attention for your website.
Winter 1999, Volume #16 Issue #1
Special Guest and Cyber Dream Pionner, Peggy Coats discusses and compares dream journalling software in Dream Journalling Software…Is it for You? Richard Wilkerson extends the notion of the journal to online possibilites in The Internet as a Dream Journal.
Summer/Fall 1998 , Volume #15 Issue #3&4
Exploring Through Metaphors: The Public Digital Dream Library. What it means to see the Internet as a dream library. Also, notes on psychology and the use of the Internet.
Winter/Spring 1998, Volume #15 Issue #1&2
Dream Sharing in Cyberspace continues to be explored, including Dreams and Princess Diana, the new web site for the Association for the Study of Dreams and the Planetary Dream incubation in preparation of the Global Congress 2000.

Summer/Fall 1997, Volume #14 Issue #3&4
Dream Sharing in Cyberspace continues. This article explore the use of the Internet for dream inspired art galleries and online museums. Not only are traditional sytle galleries and interactive galleries available, but also displays using the latest technologies. Some future option are considered.
Spring, 1997 Volume #14 Issue #2
The History Of DreamSharing in Cyberspace continues with a focus on Spirituality, Dreams and the Internet. A general history of religion and the Net is included as well as links to sites oriented towards dreams and spirituality. Future visions are suggested.
Winter 1997, Volume #14 Issue #1
The Cyberphile begins a history of the controversial practice of dream sharing via the Net. This issue focuses on the evolution of computer mediated dream sharing before the World Wide Web, with a focus on the mail list dream groups developed from the research of John Herbert, The Electric Dreams community and others.
Fall, 1996 Volume #13 Issue #3
In this issue the Cyberphile focuses on the ASD bulletin Board and salutes the pioneering efforts of the dozens of volunteers who contributed to the ASD Computer and Internet program.
Summer, 1996 Volume #13 Issue #2
The quantitative study of dreams. Content analysis online for serious research!: An interview with Adam Schneider & G. William Domhoff.
Spring, 1996 Volume #13 Issue #1
DreamGuide to the Internet continues with how Dream Community can develop via Mail Lists.
Fall/Winter, 1995 Volume #12 Issue #3&4
An Introduction to the Cyberphile, the Dream Guide to the Internet, Conference xiii projects